Students are expected to be in school, on time, every day. Parents/Guardians are expected to ensure this policy is followed.
Daily Schedule
The school day officially begins at 7:35 AM, when students are required to report to the gym. Doors open at 7:00 AM for early arrivals. Parents/Guardians cannot drop students off before 7:00 AM as there is no supervision.
Each class period is 54 minutes long and there is a break provided for all students after Period B. With Mass on Friday, the daily schedule varies slightly (note the table below).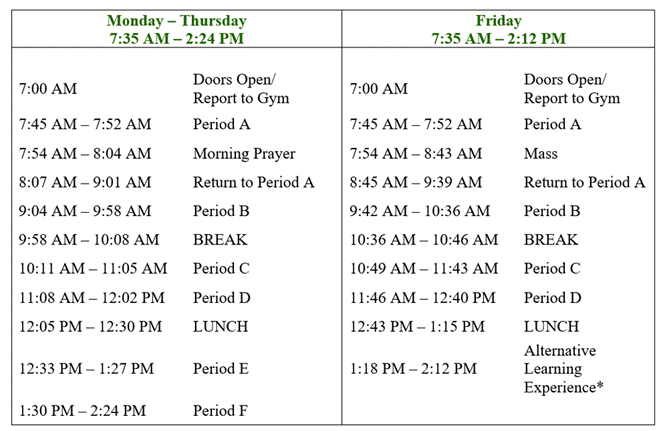 *Last period on Fridays is reserved for Alternative Learning Experiences, such as assemblies and other activities. This is not a free period.
The school day ends at 2:24 PM Monday – Thursday and at 2:12 PM on Friday. The school closes at 4:30 PM Monday – Thursday and 3:30 PM on Friday. All students must be picked up promptly upon dismissal unless they are involved in a specific activity.
Tardiness
A student arriving after 7:45 AM must enter and check in via the Main Office. Students are tardy to an individual class if they arrive after its scheduled start time.
If a student arrives after 11:05 AM, they will be marked absent for the entire day.
Excused tardiness to school is limited to medical appointment or emergencies.
Absences
If a student is going to be absent, a parent/guardian is required to call the school by 9:00 AM to inform the school. If a student is going to be absent for consecutive days, a parent/guardian is required to call each day. Parents/guardians will be notified by text, email, and/or phone call if their child is marked absent and the school has not received communication as to why. While all absences must be reported by a parent/guardian, doing so does not automatically excuse the absence. Documentation, if required, is due upon the student's return to school in hardcopy for the absence to be marked as excused.
Students are not permitted to miss school because they are scheduled to work at a part-time job. This will be considered as an unexcused absence.
Attendance Requirement for Mass
Participation in Mass each week is crucial to our mission and Catholic education, and therefore it is mandatory. Parents/Guardians should not schedule medical or other appointments during this time and it is expected that parents/guardians will ensure prompt student arrival on Fridays. Missing or skipping Mass is unacceptable and will be addressed in the same manner as unexcused and/or chronic absences.
Attendance Requirement for After-School Activities
Attendance is mandatory for students participating in any after-school activity (such as sports, clubs, dances, etc.). Students must arrive to school by 11:00 AM and stay in school for the entire day in order to participate in any after-school activities, such as athletics, intramural and club events, dances, and other school activities. Students who have unserved detentions are ineligible to attend and/or participate in these activities.


All students are required to be in dress code every day, and parents assume responsibility for complying with and reiterating the importance of this expectation.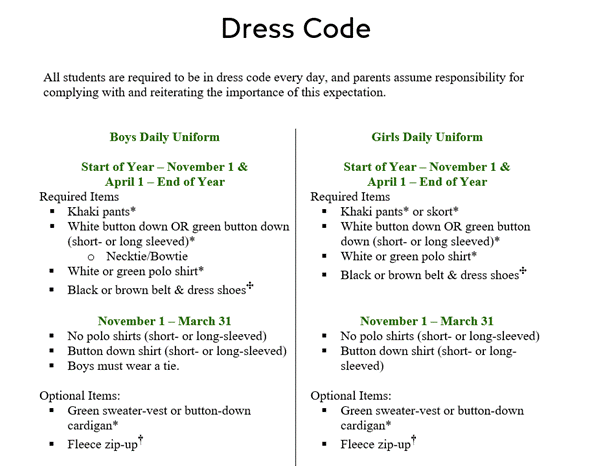 *These items must be purchased from Donnelly's Clothing Store.
†These must be purchased from the Padres Online Uniform Shop via Squad Locker. The items in the Uniform Shop are acceptable to wear as part of the uniform while in school/at school-sponsored events.
⸭Students must wear dress shoes that match the color of their belt. Students can wear Sperry-style shoes, also known as "boat shoes." However, students may not wear any shoes without a back (such as slides, Ugg slip-ons, or Crocs), sneakers or casual slip-ons (like Vans or Chucks), sandals of any kind, or flip-flops. Young women wearing heels must be kept under one inch.
Appearance
The SPA uniform is required from 7:35 AM until 2:24 PM each day, and students' overall appearance should be neat, clean, and well-groomed. Other appearance requirements:
Uniforms should fit without being excessively tight or baggy.
Uniforms should not have stains, tears, or holes, and dress shirts tucked in.
Students who wear head coverings for religious purposes are allowed to wear their covering in school.
Hairstyles and colors should not be a distraction to others.
Head coverings worn for religious beliefs are allowed.
Boys can wear stud earrings and/or a nose piercing (stud or small hoop only).
Girls can wear earrings and/or a nose piercing in the nostril, but it must be a small stud or hoop.
No other facial piercings are allowed (i.e., septum or bridge piercings).
Boys can have facial hair as long as it is kept tidy and trimmed
All outerwear – coats, hats, gloves, hoodies, snow boots, etc. – are not allowed as part of the uniform during the school day. Students should always be appropriately dressed for the weather, but upon arrival to school these items must be placed in their lockers.
Students who are not in appropriate dress code may be given an item from the school uniform supply to borrow and/or a parent/guardian may be called to bring proper uniform items to the student.
Please note there are no exceptions to the dress code unless expressly permitted by the Dean of Student Life for a valid reason (i.e., injury).


Academic integrity is fundamental to the success of any learning environment, and SPA students are expected to exhibit this at all times. Academic integrity is defined as the expectation that all members of the SPA community – administration, faculty, staff, and students – act with honesty, trust, fairness, respect, and responsibility.
Breaching academic integrity (also known as academic misconduct or academic dishonesty) covers any action or attempted action that may result in creating an unfair academic advantage for oneself or an unfair academic advantage or disadvantage for any other member of the community.
Examples of breaching this policy include but are not limited to:
Passing answers on an assessment
"Borrowing" work from another without proper citation (plagiarism)
Copying another student's work
Sharing work intended for individual completion
Eliciting services of any individual(s) and/or entities offering to do schoolwork (i.e., paying someone to write a research paper)
Using translation software or websites for World Language work/assessments
Willingly cooperating or assisting another in an act or attempted act of cheating
If a faculty member has reason to believe a student or students have breached academic integrity, they will gather evidence and then contact the parent/guardian. After consultation with the Dean of Student Life, an appropriate disciplinary consequence will be applied. The Guidance Director will inform others as deemed appropriate (i.e., coaches or Honor Society advisors).

Consistent with its mission statement, SPA administration, faculty, and staff make every effort to maintain a respectful and secure community. The code of conduct applies to all students who are on school property, in attendance at school, and at any school-sponsored activity (regardless of location). It also includes students whose conduct at any other time and place that impacts the maintenance of school order and discipline, protection and personal safety of others, and/or reputation of SPA. Therefore, students are accountable for their behavior both on and off campus, during and outside of school hours, and in both face-to-face and electronic communication.
General Rules of Conduct
All members of the SPA community must be respectful, courteous, and cooperative in their behavior and interactions with others. Disrespect of any kind is unacceptable.
Parent/Guardian Obligations
For a student to succeed at SPA, parents/guardians along with faculty and staff, must work together to reinforce expectations. Parents/Guardians must be aware of their obligations in the entirety of this handbook and are expected to ensure adherence to all SPA policies herein.
Mutual Respect
The education of our students is a shared partnership between parents/guardians and the administration, faculty, and staff. A guiding principle of this partnership is respect for self and others. Mutual respect is the standard that all students, parents, administration, faculty, and staff are expected to use in conducting themselves in speech, action, written word, or other actions.
Cell Phone/Device Policy
Students are allowed to bring their cell phone to school. However, this privilege does require that students follow all cell phone and device use policy. Other policy requirements:

Students are allowed to use their phone prior to 7:45 AM each morning and during Break and Lunch each day. All activity on any device is subject to the policies and procedures of the Acceptable Use Policy and this handbook.
Students cannot use their cell phone/device during any other part of the school day, including passing time between classes, unless they are given express consent from faculty or an administrator. This includes (but is not limited to) phone calls, texting, web browsing, playing games, using social media, etc.
Students and parents/guardians needing to communicate with each other during times when devices are not allowed, must do so via the school. Students may request the use of the phone to contact parents, and parents/guardians can call the school to communicate with their child.
Students must turn over their cell phone/device as requested by any faculty, staff, or administrator when seen/heard or if they are found to be using their phone without permission.
If students are unable to follow this policy, their cell phone will be turned over to the Dean of Student Life, who will contact a parent/guardian regarding pickup. The device will only be returned to a parent/guardian after communication with the Dean of Student Life.
Student-athletes serve as positive role models in the SPA community and beyond. Healthy athletic competition builds character and allows for exposure to leadership opportunities not usually found in a classroom.
SPA is a member of the Rhode Island Interscholastic League (RIIL) and proudly provides a growing athletic program for all grades. The Academy currently offers students athletic opportunities competing in the RIIL in boys' and girls' basketball teams and outdoor track and field. Students are also invited to participate in the SPA boys' and girls' club soccer teams as well as the co-educational volleyball team. Cheerleading is also available for student participation at a non-competitive level.
Students are required to submit required athletic forms to the Athletic Director prior to participation, and these forms will be maintained for the entire time the student attends the Academy. The Athletic Director and coaches publish all rules that come from the RIIL. Student athletes are responsible to coaches, the Athletic Director, Dean of Student Life, and the Principal for their behavior and conduct. Coaches are responsible to the Athletic Director and the Principal for the way in which they conduct themselves at practices and competitions.
Honorable Competition
The culture of our Athletic Program is consistent with our mission. Therefore, the St. Patrick Academy's Athletic Program is committed to upholding the expectations of honorable competition. Coaches and the Athletic Director will meet with team captains and engage in a discussion of what honorable competition means; it is the responsibility of the team captain(s), coaches, and Athletic Director to promote such behavior among teammates.
All student-athletes should prioritize their academics over athletics, and in terms of their athletics, they should prioritize integrity, fairness, and respect. Student-athletes' goals are to:
Exhibit good sportsmanship in all scenarios
Respect players, coaches, referees, fans, and the rules of the game
Never engage in or respond to inappropriate or disrespectful behavior
Student-athletes serve as spokespeople for SPA and therefore represent the school in athletic competition. Student-athletes' actions are viewed by family and friends, opposing fans, the local community, and the media. Good sportsmanship is always a must.
Student-Athlete Academic Requirements
SPA values the benefit of traditional academic learning as well as the experience and growth from participation in athletics. However, academic learning is the top priority for all students, teachers, coaches, administrators, and the Athletic Director.
During a sport's season, student-athletes are required to have no grade lower than a 65/D per marking period. Should a student earn less than a passing grade in two courses per marking period, they will be ineligible to participate in practice, games, and other athletic-related activities. Should a student not meet this requirement or be place on AP or DP, they may be pulled from practice and/or games until their grades have improved or for a grading period, as determined by the Dean of Student Life in conjunction with the Athletic Director.
All Student-Athletes and a parent/guardian are required to sign an Athletic Contract every year that is kept on file by the Athletic Director acknowledging all Student-Athlete requirements and expectations.

SPA is committed to maintaining the highest standards of a safe, positive environment for all members of the school community. Therefore, any practice considered bullying, harassment, or hazing will not be tolerated and are against the law in Rhode Island. Rhode Island's statewide bullying policy can be found here and is considered a part of this handbook and SPA policy.
Bullying is defined as any act – whether physical, mental, verbal, emotional, or psychological – that is done deliberately and with malicious intent that subjects a person (with or without their consent) to anything that may mistreat, abuse, degrade, humiliate, harass, or intimidate a person. It also includes any act that compromises the inherent dignity of another person.
Hazing is defined as any requirement – whether physical, mental, verbal, emotional, or psychological – by an individual, team, or group, that compels another person to participate in any activity (with or without their consent) as a condition of being a member of that team or group and violates school policy or law.
This policy incorporates all cyberbullying. Electronic communications originating outside of the school day are treated with the same consequences as if they'd originated on campus.
Examples of bullying and hazing include but are not limited to:
Physical, verbal, or psychological abuse or intimidation of any kind
Any activity that creates a risk to another person's health, safety, or property
Morally degrading or humiliating a person with the intent to make them the object of ridicule, amusement, or intimidation
Use of any social media, technology or technological device to intimidate, ridicule, and humiliate (i.e., TikTok, Instagram, Twitter, text messages, group chats, etc.)
Forcing, requiring, or pressuring an individual to consume alcohol, tobacco, or any substance/item a person would typically refuse to eat or consume beyond their capacity
Any type of initiation activity to join a group that is designed to humiliate, degrade, or abuse (regardless of consent)
Assigning, endorsing, or participating in pranks against other individuals, clubs, teams, or organizations
All members of the SPA community are obligated to report any incident to the Dean of Student Life. Violation of this policy is subject to severe disciplinary action.

Tobacco-Free School
Rhode Island's "Smoking Restrictions in Schools Act" prohibits the use of any substance or item that contains tobacco or nicotine. This includes, but is not limited to, cigarettes, cigars, pipes, vaporizers/vape pens or Juuls, as well as tobacco paraphernalia, such as snuff, chewing tobacco, or smokeless tobacco, and applies to all students, regardless of age. These items will be confiscated if found and destroyed.
Parents/Guardians will be notified, and consequences applied. Records of these offenses are cumulative from the start of the student's career at SPA.
Alcohol and Drugs
In addition to being illegal, research has proven repeatedly that alcohol and drug use or abuse is detrimental to a student's growth. Any student who thinks they may have an alcohol or drug problem are highly encouraged to seek aid from a trusted faculty member.
Students who enter campus or off-campus activity smelling of alcohol and/or drugs, including marijuana, will face disciplinary action. If a student is found to be under the influence of, in possession of, or using drugs/alcohol, – in school or at a school-related event – their parent/guardian will be called immediately. The student will not be able to attend school events, will face disciplinary action, and all necessary evidence and information will be turned over to law enforcement as required. Any student found to be sharing, distributing, and/or selling alcohol or drugs is subject to discipline at SPA and all evidence/information will be turned over to law enforcement. Student-Athletes found to be doing any of the above will also be permanently removed from their team roster(s).